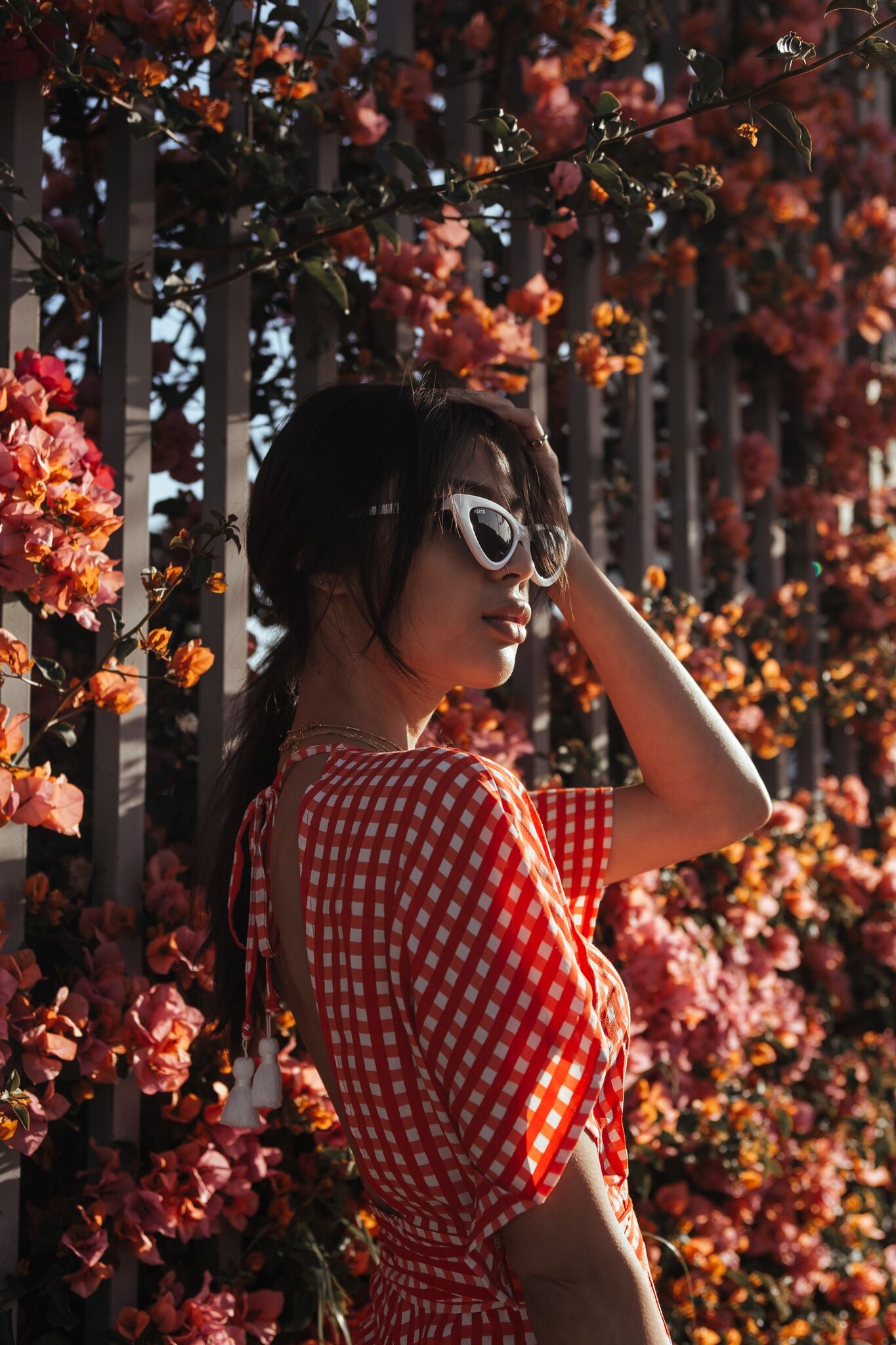 Love our collaboration with THEnudeFOX? Get to know her a little more with the interview we've conducted.

Let's start by getting to know you on a more fun and personal level. What's the deets behind the name "THEnudeFOX"

"Nude" came from my obsession with neutral colors (no not being naked lol) and "Fox" was honestly just a trendy word I thought fit well with my aesthetic. It also happens to be my future last name though, so that's pretty cool.

What is your favorite food/drink, hobby, place to shoot (local or not) and song on your current playlist?

Favorite food: BEYOND MEAT BURGERS. Sorry the obsession is real. I eat mine with avo and a fried egg on top.

Favorite drink: Iced matcha w/ almond milk (I literally drink this every morning). If it's a night out...tequila soda all the way.

Favorite place to shoot: This one's tough, but I've always loved shooting in DTLA. I used to live there, so it'll always have a special place in my heart.

Favorite song atm: "Drop" by G-Eazy. I've played it maybe 50 times in the past 48 hours. No lie.

When and how did you get started with blogging? What motivated you to break into this industry?

I seriously started to pursue blogging in January 2017 and Forever 21 was actually the first brand to ever work with me. From there, it kind of took off and I fell in love with it. This isn't my full-time job just YET, but I'm hoping it will be in the future. I still work a 9 to 5 on top of blogging, which most people are surprised by.

I've always wanted to pursue this as a career and I've always had an interest in fashion, but what motivated me to break into this industry was honestly just seeing that you COULD do it if you worked hard enough. I knew it would be challenging, but I also knew that it was possible. This job is a constant hustle and I don't think most people realize that. It's not just "taking pictures", it's being your own stylist, marketing manager, creative director, accountant, assistant...you name it. You're your own BOSS and I love that.

What did you do before blogging? Did you attend college and what was your major?

I went to UCI and graduated with a degree in Studio Art. I've always been creative, but I knew that I didn't want to be an "artist" as a career. Blogging allows me to kind of have the best of both worlds and I'm still able to work in a creative space without having to pick up a paint brush.
I actually worked in the animation industry for 5 years right out of college before I started my most recent job in social media marketing. It was really fun and I learned a lot of valuable skills I don't think I would've learned had I been on my own, but I'm so happy my 9 to 5 now is in the realm of social media.

What icons or influences do you follow/look up to?

Hmmm...this is tough! But I actually draw most of my inspiration from my friends. We've built such an amazing community on ig and they're constantly inspiring me to do more and think outside of the box. I really love that I'm able to collaborate with my favorite people.

Everyone has that one piece in their wardrobe that they're most proud of (either a holy grail, memorable or most worn piece), what is that for you?

My ride or die pieces are probably by Levis collection. Pants, shorts, jackets...I wear them constantly and they're so easy to incorporate into my outfits.

In your opinion, what is it about sunglasses do you think make it more than just a "fashion accessory"? What made you decide to choose your design for our collaboration?

When I put on sunglasses, I feel a certain way. Kind of gives you a little boost of confidence and makes you feel good, you know?
Sunglasses are an attitude, an expression and an extension of your personality. The cat eye sunnies I chose for this collection are so fun and flirty, I love seeing everyone's different tastes in what they wear and how they wear them.

Lastly what sort of advice would you give newer influencers trying to make their mark in the industry?

Be YOU and show your personality! Uniqueness and authenticity thrive on IG and sets you apart from the rest.

"Thanks so much to ASTRD for the opportunity to be able to share my obsession with sunnies through this collection! I hope you all love them as much as I do."
- xo Allysa
Learn more about the ALLY and FOX.